April 3, 2017
WORK WITHOUT WALLS by Maura Nevel Thomas Becomes Amazon Best-Seller, Championing a Culture of Maximum Productivity with Fewer Distractions in the Workplace
Popular Speaker, Author of Personal Productivity Secrets, Explains How Business Leaders Must Beat the Challenges of an Always-On Workplace, Drive Results and Help Employees Thrive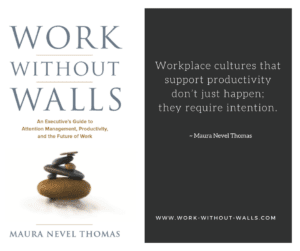 AUSTIN, TEXAS – March 28, 2017 – Work Without Walls: An Executive's Guide to Attention Management, Productivity, and the Future of Work, the newest book from award-winning speaker, author and founder of RegainYourTime.com, Maura Nevel Thomas, earned Amazon Bestseller status for three straight weeks upon its release. Thomas' popular new book coaches executives on the keys to maximum productivity and peak organizational performance by focusing on delivering a great employee experience.
In Work Without Walls, Thomas opens with a succinct examination of the ongoing transition from the industrial age to our knowledge worker economy in which business innovators want to attract the highest performers. She concludes that the secret weapon for ensuring optimal productivity is to support and model a high quality employee experience —more than perks like kitchen snacks and nap rooms — that includes fewer distractions, a culture of productivity, and more emphasis on outcomes, not output.
"One of the greatest challenges facing today's executives is how to get consistent, meaningful results when today's always-on work environments cultivate exhaustion and burnout," Thomas explains. "Innovation and creativity suffer when employees are lured by daily outputs that seem productive, like email, instead of measurable outcomes. Work Without Walls explains how today's leaders can foster productivity and innovation in our around-the-clock culture."
Thomas says for today's knowledge workers, "employee experience is critical, and it starts with an intentional culture focused on quality results. This impacts everything from office layout to vacation policies to flex time to leadership habits," and it becomes the responsibility of today's executives and human resources professionals to identify and steward a productive culture.
"What executives think is a time management problem is actually a culture problem," Thomas says. "The true cost of distraction can be millions a year in lost productivity."
Thomas's extensive experience in productivity training and speaking for businesses and organizations of all sizes affirms that a productive culture, designed with intention, is the key to maximizing knowledge work. "There's a difference between employee wellness and employee well-being, and paying attention to both improves their engagement and productivity," she says. Recent studies also indicate that employees' positive feelings about work correlate with higher engagement and higher profitability, as reported in the Harvard Business Review.
Experts in human behavior agree that Work Without Walls is a valuable resource for today's business leaders. "Work Without Walls offers new insights and concrete recommendations for guiding new working environments," says Dr. John Dovidio, psychology professor at Yale University.
Work Without Walls is important reading for executives, HR managers and individuals who want an extra edge in their careers.
"Thomas gives fantastic advice for people looking to have a productive career and a great life…. This book will be a huge benefit to any leader whose team has struggled to stay focused at work and to maintain a healthy work-life balance," says Art Markman, author of Smart Thinking and Smart Change.
Work Without Walls: An Executive's Guide to Attention Management, Productivity, and the Future of Work is available in paperback ($16.95) and Kindle ($9.99) editions on Amazon.com, plus Nook and iBook.
Maura Nevel Thomas is an award-winning international speaker and trainer on productivity, attention management, and work-life balance for companies such as the American Heart Association, Old Navy, AIG, and L'Oreal. She is a TEDx Speaker, founder of RegainYourTime.com, and author of Personal Productivity Secrets and Work Without Walls. She is a favorite media source on these topics, and is featured weekly in national outlets such as the Wall Street Journal, Fast Company, and Inc. She's also a regular contributor to the Harvard Business Review, with articles there viewed nearly a million times. Follow her on Twitter at @mnthomas.
# # #
Work Without Walls Chapters
The "Human" Part of Human Capital
Distraction, Attention, and the Twenty-First Century Work Culture
The Challenge of Email and the Dangers of Constant Communication
Is Your Vacation Policy Broken?
The Office Environment
The Location of Work
Intention and Improvement
Appendix A: "Access Economy" Companies
Appendix B: Further Reading
Appendix C: Apps, Tools, and Other Resources