I'm excited to share with you that I've been invited to be a contributor to the Forbes Leadership Channel! Twice each month I'll be sharing insights from my lifelong study of productivity and performance, and my work with executives and teams. You can sign up to follow my work there at the top of my contributor page. 
So far I've posted four articles, and to tell you the truth, I'm bowled over by the reaction! 
It seems that readers far and wide are searching for an alternative to time management—an approach to productivity whose time has come and gone. Judging by the early reception, the idea of attention management as the productivity solution for our digital age is really resonating.
Here is a brief summary of my first four posts with links so you can click over for the full reads:
Correct This Leadership Mistake for a Culture of Attention Management
In my client work, I see one huge issue interfering with productivity and attention management, but it's not one that individual contributors can solve on their own. It's a problem created by leaders and it has to do with email communication. While there are solutions in the article, it's not a problem that is likely to be solved by just reading. If you see this problem in your organization and think you have the influence to help fix it, hit reply and let's set up a complimentary conversation where I can offer you a more specific blueprint for course correction.
3 Steps to Managing Work Stress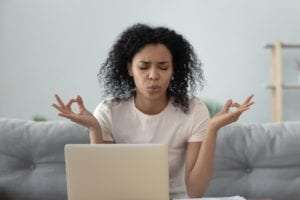 With so many people now working from home, there is a propensity to create an "always on" culture for our teams. This, however, is often counterproductive and can lead to burnout. 
In my debut article, I write about how to streamline email communications and meetings, as well as how to set boundaries around your availability, so that you can reduce the stress you experience at work.
The strategies in this article will help regardless of your role in the organization. They can quickly help stoke your own motivation, as well as help your co-workers and direct reports feel a renewed zest for reaching their true potential.
Make This Easy Mental Shift to Preserve Your Productivity
Attention management is based on the idea that a particular type of work task requires a particular type of attention. When you can learn to recognize the type of attention required to produce optimal results, you can consciously shift your mindset to maximize productivity.
In this article for Forbes, I profile a client named Jill (not her real name), who was a busy and overwhelmed executive on the verge of burnout. I helped Jill understand the 4 Quadrants of Attention Management, a model I developed to help clients become more aware of the variety of attention they use throughout a workday.
Read the article to find out how attention management enabled Jill to consciously make mental shifts throughout her day. These small shifts in attention allowed her to move from a life of stressful reactivity to one of calm productivity.
Solve Productivity Problems by Updating Time Management Training to Attention Management
In this article, I outline how leaders often implement three common strategies in an effort to boost employee productivity. These strategies are: 1. Time management training; 2. Flexibility to work from home; and 3. "Unlimited" vacation time. 
The trouble is that without proper context and implementation, each of these strategies can backfire, resulting in decreased productivity and increased burnout. 
In the article, I discuss the implementation pitfalls of each strategy, so you'll know what to look out for. Discover how updated training and skilled policy implementation can help you and your team meet the demands of the "attention age," while increasing overall productivity and work satisfaction.
And I hope you'll bookmark this page to follow me on Forbes.com. I look forward to sharing more with you as attention management becomes recognized as the leading productivity strategy across the globe.