Empowered Productivity Training
Change Unproductive Behaviors  >  Improve Performance  >  Maximize Returns
Attention management, rather than time management, is the most effective path to improved productivity. Anchored in Attention Management, Maura Thomas' Empowered Productivity™ Training is an evidence-based professional development program that shows participants how they can improve their performance and also feel less scattered and experience less stress. This training will help you and your team overcome any obstacles preventing you from achieving higher levels of performance and productivity. Click below to learn more.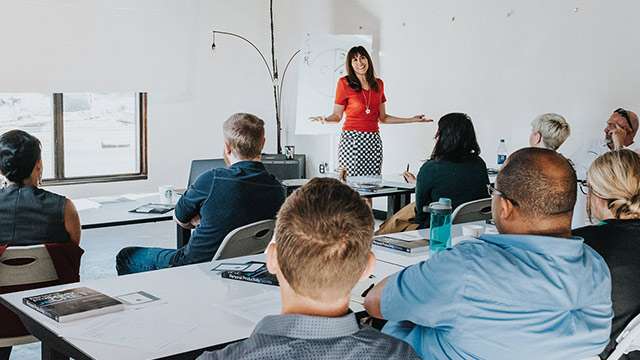 Empowered Productivity™ training for teams covers strategies that are suitable for all levels of office staff, from the support team members to the CEO.
It teaches participants practical, relevant ways to control their attention and manage their workload.
Maura will customize a program from some or all of the 6 components of Empowered Productivity, based on your specific needs and expectations, with support from her first book, Personal Productivity Secrets and her Empowered Productivity book series.
The Empowered Productivity™ program for leadership is perfect for executive meetings and retreats.
It helps leaders to master the behaviors that support, rather than sabotage their team's ability to do their best work, and to create a culture of productivity inside their organization.
This training is supported by Maura's second book, Work Without Walls.
Want to benefit from Empowered Productivity™ training on your own? No problem, we've got your professional, and personal, development needs covered.
Available for individuals and groups, this on-demand, online course will help you focus on your most important work, master distraction, and get more done!
Invest in yourself and realize a return of an hour or more of productive time per day! Students in this course call it "liberating," "empowering," and "life-changing!"
Manage Your Attention  >  Regain Control  >  Live a Life of Choice
All of us have our own kind of genius—not only our wisdom, education, and experience, but our kindness, empathy, humor, and other personal traits.
We do our best work when we have the ability to unleash that genius by staying present and building "brainpower momentum" on a task, conversation, or experience.
There's a problem, though.  The fast pace and relentless high-tech distractions of modern life are sabotaging our genius.
Empowered Productivity training, based on the cutting-edge skill of attention management rather than time management, addresses this problem. It offers the ability to control distractions, single-task for higher-quality results, and engage sustained attention when necessary, which should be a part of almost every day.
Empowered Productivity
™

 training with Maura Thomas is:

Strategic – challenging participants to think about new ideas, and reimagine old ideas in new, more relevant ways.

Tactical – empowering participants to immediately put the lessons into practice, and hit the ground running by the end of the program.

Unique – taking the approach that time management is no longer relevant, and attention management is the new path to productivity.

Consultative – partnering with you to customize the content to address your specific needs so you can maximize the return on your training investment.

Lasting – supporting participants with a focus on the 6 components that contribute to training success, plus pre- and post-training support for both leaders and individuals included.

Results-Oriented – long-term, beneficial behavior change is the goal of every training, and past participants report gaining at least an hour of productive time per day.

 

90-days post training, results from voluntary surveys show the following from attendees: 

 
96% are still using some or all of what they learned in the training
93% feel more control over details of life and work,
91% feel more productive, and
97% would recommend the training to others.
Get on Top of Details  >  Improve Performance  >  Maximize Achievement
The complexity of knowledge work today requires a workflow methodology that allows us to be intentional, proactive, and thoughtful.
But, workflow management skills for improved productivity are not taught in school, and traditional time management training is no longer up to the challenge of the modern work environment.
As a result, workers are often left to their own devices, with mixed results.
Professionals who have learned the Empowered Productivity System know the best use of their time in any given moment, are able to apply deep focus to their most important work, communicate better, and maintain stronger relationships because they're fully present with others, and regularly take time to recharge and refill their reserves of patience, insight and creativity.
I just wanted to say "thank you" for a fantastic presentation! I've attended many "time management" trainings and presentations in my career. Yours is the first one that makes sense.
Alana, Conference Keynote Attendee
Maura is one of the best speakers I've experienced—very engaging, funny, and provides great take-aways!
Geraldine Flatt,  Vice President of Human Resources and Retail Operations, Gloria Ferrer
I have implemented what I learned in our training with you and it has been transformative! I have more mental space for strategic thinking, and have experienced immediate stress reduction and a boost in presence and joyfulness. Its been quite extraordinary, and I thank you deeply for that.
Chinyere Oparah, Provost, Mills College
I highly recommend Maura's presentation. We found it to be a new and useful perspective on not just "time management," but more importantly, "productivity." She also impressed us (even the more experienced technophiles) with her insights on technology.
Allen Hauge, Group Chair, Vistage International
Inquire about Training
My goal is not to help people like you do less, but to help you accomplish more by managing the responsibilities of your busy life in ways that make you energized and motivated, instead of exhausted and overwhelmed.
I don't know what I would ever do without my Empowered Productivity System. It makes me efficient, keeps me sane, and helps me achieve my goals. Let me help you do the same.
We'll get right back with you to learn more about your needs, and we will never sell your information.
I'm looking forward to working with you!
Tips for Hiring a Trainer
Many people who are tasked with the responsibility of collecting training bids, or making a professional development purchase for an organization, are new to the task. Realizing this led me to assemble the following ideas to take into consideration when purchasing productivity training for your organization.
1.  Training is Not Consulting or Coaching

Coaching and consulting are used to improve a situation over time. They require iterative processes and an ongoing relationship, necessitating observation of how actions affect circumstances over time. In contrast, training is a vehicle to provide new understanding, and through it, an opportunity to develop a new skill set. While creating habits of the new skills is an ongoing process that does sometimes benefit from additional support, the knowledge transfer that occurs during training can usually be accomplished in a discrete and pre-determined time-frame. Don't pay for more than you need, but do find out what ongoing support options are available with the training program, and whether or not there is an additional charge for them.
2. Purchasing Training is Not the Same As Purchasing "Widgets:" It's a Complex Process
In order to provide worthwhile return on your investment, an on-site corporate training program must address the specific needs of the participants, and the expectations of the decision-maker. "Standard" pricing often means "off-the-shelf" training, which is "one-size-fits-all" and may not effectively impact the needs it was expected to address. A seasoned productivity trainer will want to speak with the decision-maker (and perhaps survey the participants) to help understand the specific challenges faced at the organization, help uncover these challenges when necessary, understand the desired outcomes, and get a sense of a budget range the organization has to devote to addressing these challenges. This will provide the facts necessary to suggest a training program of appropriate length, format, and content, that also fits within the budgetary constraints of the company. This strategic process saves time in the long run, and is more effective than simply collecting a pile of standard descriptions with pricing.
3.  There is a Difference Between a "Trainer Delivering a Curriculum" and a "Subject Matter Expert."
Large "training" companies that sell multiple different types of professional development courses typically provide packaged curriculum that was purchased at some point in the past, perhaps too long ago to be useful.  This training is often delivered by a freelance trainer who has experience learning and delivering different types of training, but is unlikely to be a subject-matter expert on any of it.
A specialty training firm typically offers products around a single topic, and is usually run by a subject matter expert who is continually studying that topic, using the techniques in her own life, and refining the content to keep pace with changing environments and technology.  A "jack-of-all-trades" corporate training provider can be a convenient single source when basic needs in multiple areas are to be addressed, although compare prices with specialists.  When long-term adoption of new behaviors is sought, a subject-matter expert can usually provide solutions with greater impact.
4.  Consider Your Attendees When Planning Training
There are several factors, outside the course itself, which have a significant impact on the success of your employee training initiatives. One is the attitude of the participants. Most corporate training courses require the adoption of new habits to have lasting effects, but participants who don't want to attend, for whatever reason, can often undermine the effectiveness of the program for other participants, too. Look for a trainer who wants to discuss the attitudes of the participants, perhaps even offering a pre-training survey. Also, solicit input from your training partner to determine whether making the course optional or mandatory will produce the best results.
Another factor is the opportunity to get started on implementing the new behaviors. If participants are left to "find the time" to make the changes recommended in the session, the likelihood that they will, in fact, "get started," decreases dramatically. If the program will not include group and/or individual work time that gives them a jump-start on the new behaviors, consider setting aside time afterwards, where participants are told not to "go back to work," but to consider that the training is continuing. Look for a trainer who will provide "homework"—specific instructions for the participants to follow that will help them make the recommended behavioral changes. This "getting started" time should allow the participants to be excused from responsibilities like answering the phone, attending meetings, and answering emails, just as if they were still in the training. An experienced trainer should provide information and guidance for you on this.
Conclusion
It's common to view a discussion of training as the beginning of a negotiation, where the rules preclude you from "giving too much information away." But a reputable productivity trainer can be viewed as your partner in the process (even if you don't ultimately hire that person), who can help you uncover your needs, cover all your bases, give you options to choose from, and work with you to ultimately provide the best and most cost-effective solution, all within your parameters.
I look forward to discussing your professional development needs with you, and I pledge to be your ethical and honest partner in the process. Check out the Training Reviews to see what others had to say about their decision to work with me.