Productivity Training for Teams
Does your team have the skills they need to stay focused and perform at a reliably high level?
More than anything else, distraction is undermining productivity.
Whether working remotely or in the office, everyone is busy every day, but they often don't make sufficient progress on the most important things.
In the 21st century, traditional "time management" solutions are not enough. Today, more than ever, reliable team productivity depends on the ability to manage one's attention. 
That's why Maura's proprietary Empowered Productivity™ training programs are grounded in her unique perspective that attention management is the right solution to improve team productivity.
How Do We Help?  We provide proven, engaging productivity training for groups and teams, to help individuals and organizations achieve more of their most significant results. We do this by teaching the Empowered Productivity workflow management system, which is anchored by Attention Management. We provide in-person, virtual, and online on-demand training solutions, as well as group and individual coaching. Through an initial consulting call with key leadership, we customize each training package to meet the unique needs of the organization or team. You can learn more about what a "workflow management system" is in this comprehensive article.
Team Productivity Training Outcomes
A useful system for managing their workload

A plan to combat the feeling of being overwhelmed that sneaks up on us all

Techniques to avoid procrastination
A process to gain peace of mind knowing that everything is under control

The ability to be constantly proactive, in five minutes or five hours

The process for successful, long-term behavior change
Tips & techniques for getting maximum effectiveness from their electronic tools (PC, Mac, handheld, and web-based)

A logical, repeatable system for managing paper and email

The tools to manage both internal and external demands on attention
Maximum return on training investment

A blueprint for a productive corporate culture, that enables your staff to offer high-quality knowledge work to your organization every day.
What is the Empowered Productivity System?
The Empowered Productivity System is a comprehensive workflow management system that empowers busy people to regain control over all of the details of their life and work, so they can get more done in less time with less stress.
Empowered Productivity Training includes the following six components, customized to the specific needs of the team:
Attention Management: If you often feel like you are exhausted at the end of another busy day, but also like you didn't get enough of the important stuff done, it's probably because you're spending too much time being reactive, and not enough time being proactive. Learning attention management will help you master distraction and put you back in the driver's seat.
Action Management: If you manage your work through some combination of often-broken appointments with yourself, sticky notes, flagged emails, paper notebooks, and one or more apps or software programs, this module will help you work smarter, lower your stress, and empower you to keep the big picture firmly in view so you can prioritize and track your work appropriately.
Communication Management: If you feel like you can never get out from under "communication debt," this module provides the information you need to tame your inboxes and get back in control. Meeting Management is also an option to include in this module, including effective planning and execution of meetings,  getting results from meetings, and holding people accountable, including managing "up" and across teams.
Burnout Management: Burnout is not a problem to avoid in the future, it's a current challenge to deal with now. Studies show burnout symptoms are 3x higher since the start of the pandemic. This module covers work-life balance, what it means, and how to achieve it. Plus how to reverse the trend toward burnout and help your team members love their work again.
Behavior Change Management: If you've tried to make improvements to your productivity (or to adopt any new habits) before, but weren't successful, this is the module that unlocks the ways to make changes stick.
Culture Change Management: If the environment at your organization and the behavior of leaders contributes to any of the problems above (it does!), this session for leaders will provide the blueprint for course correction.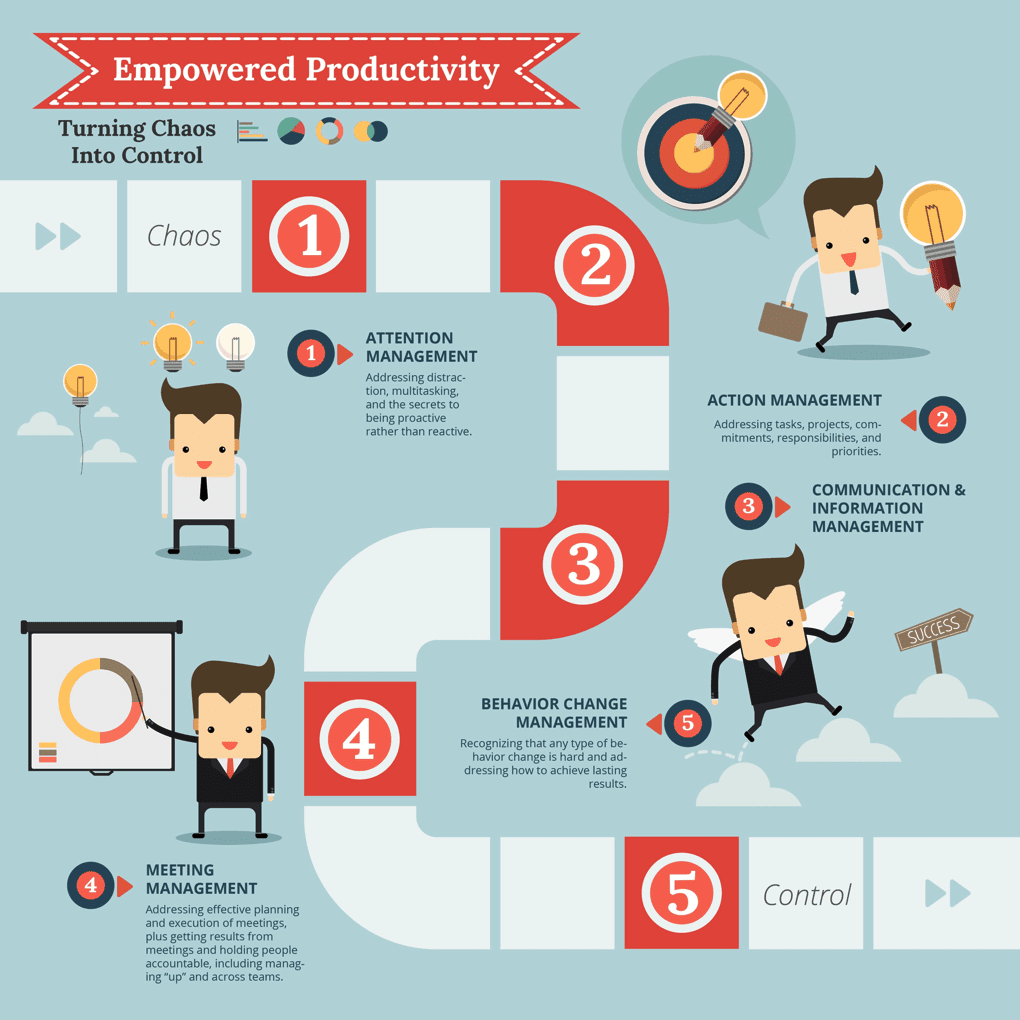 How Are Our Engagements Customized?
Not all components of the Empowered Productivity Training are relevant for every client, so we customize our engagements in two ways:
Through the modules that are included, based on the clients needs and their objectives for training. (This is typically decided upon with the leaders in advance.)

Through the specific content covered in each module, to ensure that it matches the specific needs of the individuals in the room. (This is typically done through a survey we offer to participants prior to training.)
Teams have changed because of Empowered Productivity
Maura's training is exactly what we needed at our company.
We are a construction company that thrives on technology and has a strong open door policy culture. She provided us with real world solutions to enable our teams to function more effectively and efficiently! She kept the training light and easy to follow and we are now putting her system in place.
I highly recommend her training to others!
Thank you so much, Maura!
– Noelle Diebler, Controller
Your sessions were absolutely wonderful, and they have definitely given me some momentum toward getting my life organized.
I am excited to see various members of my sales team implementing your suggestions
, and I have also been telling my friends & family about you.
– Alison Turner
I did find your session extremely valuable and
it has absolutely changed the way I work.
I am more organized and I am accomplishing a lot more day in and day out for myself, my team and the organization as a whole. I've made meetings more impactful, I've managed my emails better, I have been able to more effectively work through multiple projects simultaneously and still get normal day to day activities done. Thanks again.
– Sue Godfrey
The Empowered Productivity™ System , with its foundations in attention management, offers a solution for the endless demands of commitments, communication, and information inherent in busy professionals' lives. Implementing this system will address the issues outlined above, and will also increase accountability, lower stress levels, and decrease costly mistakes throughout your organization. It will also:
Arm your staff with all the skills they need to regain control over their endless to-do lists.
Teach them the truth about multi-tasking & brain function.
Improve the effectiveness of communication within your organization.
Help them prevent things from falling through the cracks.
Empower them to break the reactive habit, and be consistently productive & proactive.
Participants report regaining at least an hour of productive time per day, and voluntary surveys 90-days post training show the following from attendees:
96% are still using some or all of what they learned in the training, 
91% feel more control over details of life and work,
91% feel more productive, and 
95% would recommend the training to others.
How is the Training Delivered?
Our programs are offered in three ways, two live and one online, on-demand:
Live, on-site— Maura travels to a location of your choosing to provide in-person training, from four hours in duration to 16 hours (in consecutive, half-day increments), depending on decisions made during our initial consulting call with key leadership.   

Live, delivered virtually— typically in two-hour modules delivered over one to three weeks via interactive Zoom sessions. We have an advanced virtual studio, with professional equipment, and we have vast experience making virtual presentations engaging. We provide an "almost-as-good-as-in-the-room-together" experience. You can see a video preview of that here. Maura delivered over 100 virtual presentations just in the first year of the pandemic.

We also offer two modules from the Empowered Productivity Training in online, on-demand format, and recordings of virtual sessions are available to license for future use. This online training is perfect for individuals, or groups that choose to work together in a book club format.
How to know your team can benefit from Empowered Productivity
™

training
Leadership wants their teams to have every advantage in dealing with the demands of growth, high pressure, an increasingly fast pace, the need to do more with less, or all of the above.
Working fewer hours is an appealing goal for team members.
It seems like "everything is an emergency" and being more proactive and less reactive would be helpful.
Burnout is a concern, now or in the future.
Turnover is a concern, now or in the future.
Job dissatisfaction and/or engagement are concerns.
Everyone seems busy, but core objectives are not being achieved, or are taking too long.
Quality issues are a concern.
Staff is drowning in email.
Meeting time is excessive.
Leadership is concerned that current skills and processes will not scale with growth.
If some or all of the above are true, then your team need the Empowered Productivity System.
In just a couple of short weeks after our team attended Maura's Empowered Productivity™ training, I can feel the reduction in stress and tension in our office. Every person who attended is reaping the benefits. Personally, I've seen a significant increase in the quality and timeliness of my work, and using her system has significantly reduced the pressure I was feeling at trying to constantly juggle priorities using my old methods. The response has been so positive at work that we're already looking into how we can roll out Empowered Productivity training to the rest of our company. Maura exceeded my very high expectations!
-Charles Morin, Sr. Technical Solutions Engineer
Productivity Training Success Handbook
Here is a short handbook that Maura wrote to help to you vet and hire for any type of corporate training. It also provides more information about how we partner with clients to successfully achieve their professional development goals.
Get in touch now to discuss how to empower your team's productivity!
Thank you!
You brought light to my world.
I hope that you continue to work with us. Everyone is talking about your training. Thank you. Thank you.
– Dennise Jackson
Regain Your Time!™ Training was single-handedly
the best company training we did last year.
Since this class, we have seen an amazing amount of change in our employees, in ourselves and in the total amount of time needed to manage our company's day-to-day operations.
– Kevin O'Brien, President